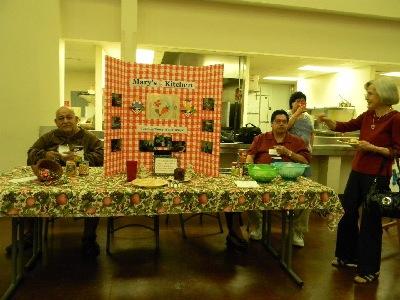 MARY'S KITCHEN IS IN NEED OF MORE VOLUNTEERS TO ASSIST SO THAT WE CAN CONTINUE SERVING OUR AREA. IF YOU ARE ABLE AND WILLING TO HELP, PLEASE CALL THE KITCHEN AT 281-452-2027 OR THE PARISH OFFICE AT 281-452-9865.​


LA COCINA DE MARIA NECESITA MAS VOLUNTARIOS PARA AYUDAR PARA QUE PODAMOS CONTINUAR SIRVIENDO EN NUESTRA AREA.
SI USTED QUIERE AYUDAR, LLAME A LA COCINA AL 281-452-2027 O A LA OFICINA DE LA PARROQUIA AL 281-452-9865.
Mary's Kitchen
Mary's Kitchen has served the poor in the East Harris county hot nourishing meals since 1987. We rely on volunteers to cook and serve up to 200+ meals each day to the very young, the very old, the infirm and the unfortunate, and up to 350+ meals in the summer months. For additional information, please contact Mary's Kitchen's office at 281-452-2027. We are open Monday, Wednesday, and Friday 11:00am - 12:00pm.
WE ARE CURRENTLY CLOSED UNTIL FURTHER NOTICE.
La Cocina de Maria ha servido a los pobres del condado Este de Harris con comidas calientes y nutritivas desde 1987. Dependemos de voluntarios para que cocinen y sirvan más de 200 comidas diarias a los ancianos, niños, enfermos y desafortunados y hasta 350 comidas diarias durante los meses de verano. Para mas información llame a la oficina de la Cocina de Maria al 281-452-2027. Estamos los lunes, miércoles y viernes de 11:00am a 12:00pm.
ESTAMOS CERRADOS ACTUALMENTE HASTA NUEVO AVISO.