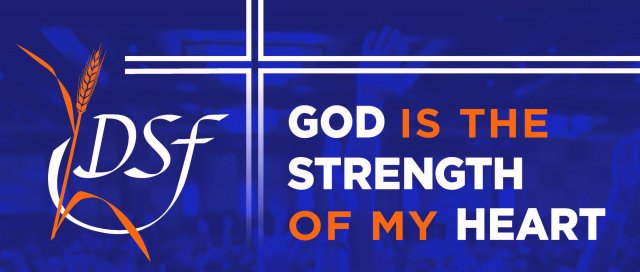 Please make sure you use the drop down menu under Parish Information to select "St. Andrew - Channelview" so that your DSF gift is credited to our parish and helps us meet our goal.
What is the Diocesan Services Fund (DSF)?
The Diocesan Services Fund (DSF) helps all of us fulfill Christ's mission here on earth by supporting those programs and services that cannot be accomplished by one parish alone. More than 60 programs receive all or part of their funding from DSF and all funds are spent within Archdiocesan boundaries. The broad areas of ministry that receive DSF support include: Catholic education of children and adults; pastoral ministries for the sick, the poor and the incarcerated; the formation and education of church leadership; social service programs such as San José Clinic, St. Dominic Village and Catholic Charities. See a full list of these programs HERE.
St. Andrew's Goal for 2023 is $73,000.00.
We need all of our parishioners to help us meet our parish goal by donating. You can make a pledge to donate throughout the year or make a one time donation. Click the button above to donate online. You can also pick up a pledge/donation envelope or make a cash donation in our church office.
Helpful Links: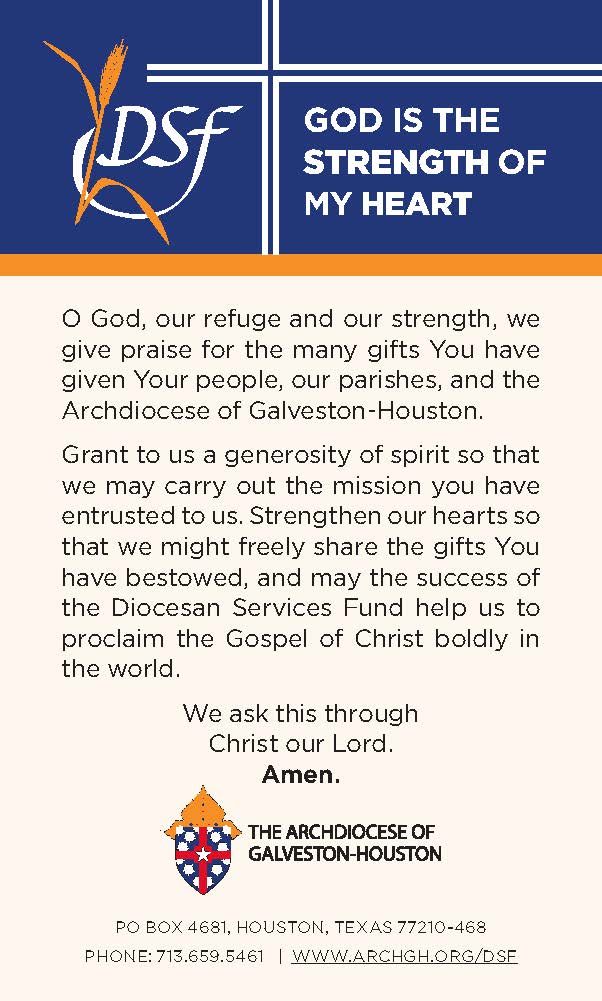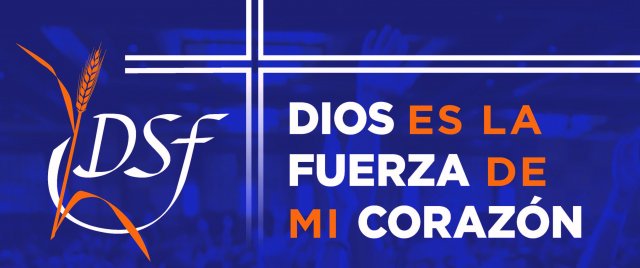 Asegúrese de usar el menú desplegable en "Parish Information" para seleccionar "St. Andrew - Channelview" para que su donación DSF se acredite a nuestra parroquia y nos ayude a alcanzar nuestra meta.
¿Qué es el Fondo de Servicios Diocesanos (DSF)?
El Fondo de Servicios Diocesanos (DSF) nos ayuda a todos a cumplir la misión de Cristo aquí en la tierra al apoyar aquellos programas y servicios que no pueden ser realizados por una sola parroquia. Más de 60 programas reciben todo o parte de su financiamiento de DSF y todos los fondos se gastan dentro de los límites de la Arquidiócesis. Las áreas amplias del ministerio que reciben apoyo del DSF incluyen: educación católica de niños y adultos; ministerios pastorales para los enfermos, los pobres y los encarcelados; la formación y educación del liderazgo de la iglesia; programas de servicios sociales como la Clínica San José, St. Dominic Village y Catholic Charities. Vea una lista completa de estos programas AQUÍ (se abrirá en inglés).
​​​​​​​La meta de San Andrés para 2023 es $73,000.00.
Necesitamos que todos nuestros feligreses nos ayuden a cumplir nuestra meta parroquial mediante la donación. Puede hacer una promesa de donación durante todo el año o hacer una donación única. Haga clic en el botón de arriba para donar en línea. También puede recoger un sobre de compromiso/donación o hacer una donación en efectivo en la oficina de nuestra iglesia.
Enlaces Útiles (se abrirá en inglés):